The nature

In the heart of Val d'Orcia Natural Park and inside the Natural Reserve of Lucciola Bella, between Pienza and Montepulciano, immersed in a natural terrace overlooking Mount Amiata, the farm holidays Le Macchie assures a sojourn in contact with nature in a protected and uncontaminated oasis. Walking about the farmhouse one can meet coves, the so called "calanchi" and "biancane", characteristic erosive and argillaceous forms imbued with shell fossils, a memory of the marine environment of the past. Among hte clay earth of the Siena, Tuscany area the scents of ancient herbs can be rediscovered, such as wormwood, goat's beard, cretaceous, artemisia, wild fennel, and diverse gramineae such as maritime barley, thin rye-grass, and bent rye grass, species typical of the coast and very rare inside the coastline, which are the essential nourishment of the local sheep from whose milk the traditional sheep's milk cheese of Pienza is produced: Pecorino di Pienza.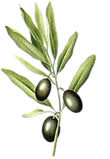 The olive is one of the main protagonists of the "Val d'Orcia" landscape. It has been since the remote past, well before the Etruscans who had cultivated it in the VII the century A.C.. At a later date, it was distributed and traded by the Romans who constructed "l'arca olearia",a sort of pouch for olice oil, in Rome where importing colleagues negotiated price and quantity. Nowadays, the olive represents a naturalistic alimentary heritage in all the Mediterranean and in a particular way, in Italy. Continue ...

This clay earth - remembered by "Grand Tour" travelers, from Michel de Montaigne to Charles Diskens, who were particularly attracted to the rugged and changing character of the conformation of the land-features important and exclusive vegetative and ornithological (bird-watching) aspects. The park and the reserve, in fact, preserve the geomorphological characteristics of the traditional rural landscape, recognized as indispensable for numerous species of birds, a large part of which are in danger of extinction today. The "calanchi" and "biancane" are the natural habitats for the harrier minor, which, here, make up a good number of the nesting couples found in the Tuscany area, and for other birds of prey, of which, the rare Lanner and harrier eagle. In addition, the wheat fields of the farmhouse locality are regularly visited by the lark and by species belonging to the same family, as the woodlark, crested lark, and calandra lark. The territory of the farmhouse is in sum an area of repopulation for pheasants that are periodically controlled and protected by the personnel of the natural Park of Val d'Orcia.