Oriolo



Apartment of 180 square meters (1940 ft), on 2 floors, up 6/7 people

The ground floor is made up of spacious entrance way that leads straight ahead open plan to a large sitting room with a original stone fireplace satellite television, musical system implant with radio and cd; Dvd player, a small bathroom; a dining room; and, a fully equipped kitchen with oven and dishwasher.. Upstairs one can find a glassed in portico, with a view of the wheat fields and olive groves and a comfortable sofa for reading or relaxing. Three spacious and comfortable bedrooms overlooking Mount Amiata, furnished with both wrought iron lamps and beds and antique furniture. The marble bathrooms can be found on the same floor, with tub and shower. Please note that one of the bathroom's shower is located up five steep and narrow steps and is not suitable for the elderly or disabled).

3 Bedrooms ( 2 matrimonial size bed + 1 twins bed )
2 and half marble bathroom ( with tub and shower)
large sitting room with original stone fireplace
Dvd player - Satellite Tv - Hi-Fi
Oven - Dishwasher - Microwave
Hair Dryer
glassed in portico
Private are outdoor with breath-taking view to the val d'orcia
The Apartments


Oriolo
Leccino
From the ancient stone farmhouse of the farm "Araldo", built in the beginning of the 17th century, three apartments have been extracted with absolute respect to the original desing of the noble family Borghesi of Siena, Tuscany, who where the original owners of the farmhouse, furnished with wrought iron lamps, linen cloths of Monticchiello, antique Tuscan furniture, Tuscan "arte povera" (poor art). The brickwork floor, the restoration of the wooden beams and the great original stone fireplace, a testimony to the past, welcome each guest in a warm and comfortable atmosphere. The location of Le Macchie is impressive. The estate lies on its own, exposed towards the south-west, and overlooks the entire valley. Our Tuscany farmhouse Le Macchie is the perfect accommodation in Val d'Orcia and offers guests traditional Tuscan apartments with fully-equipped kitchens and a swimming pool for the warm days of spring and summer.


Our beautiful pool (12m x 6 m) has a breath taking unobstructed panoramic views of Monte Amiata and the Crete Senesi. with a Jacuzzi 2 mt x 2 mt. Is located aproximately 50 mt. from the house.
See the Photo Galley ...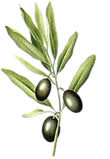 The olive is one of the main protagonists of the "Val d'Orcia" landscape. It has been since the remote past, well before the Etruscans who had cultivated it in the VII the century A.C.. At a later date, it was distributed and traded by the Romans who constructed "l'arca olearia",a sort of pouch for olice oil, in Rome where importing colleagues negotiated price and quantity. Nowadays, the olive represents a naturalistic alimentary heritage in all the Mediterranean and in a particular way, in Italy. Continue ...


In the heart of Val d'Orcia Natural Park and inside the Natural Reserve of Lucciola Bella, between Pienza and Montepulciano, immersed in a natural terrace overlooking Mount Amiata, the farm holidays Le Macchie assures a sojourn in contact with nature in a protected and uncontaminated oasis. Walking about the farmhouse one can meet coves, the so called "calanchi" and "biancane", characteristic erosive and argillaceous forms imbued with shell fossils, a memory of the marine environment of the past.
Continue ...

Leccino



Apartment of 180 square meters (1940 ft) on 2 floor, for 6 people.

The ground floor is made up a large living room with a fireplace, satellite TV and musical implant system with radio and Cd, Dvd player; a small bathroom; a dining romm; and, a completely equipped kitchen with oven and dishwasher. The dining room has beautiful arched window with French doors out to a charming courtyard. Upstairs, there are three spacious and comfortable bedrooms facing Mount Amiata, and the "calanchi d'argilla" (coves), furnished with wrought iron lights and beds and antique furniture. Leccino has a private garden surrounded by low walls, with table and chairs for meals outside.

3 Bedrooms ( 2 matrimonial size bed + 1 twins bed )
2 and half marble bathroom ( with tub and shower)
large sitting room with original stone fireplace
Dvd player - Satellite Tv - Hi-Fi
Oven - Dishwasher - Microwave
Hair Dryer
Private charming courtyard